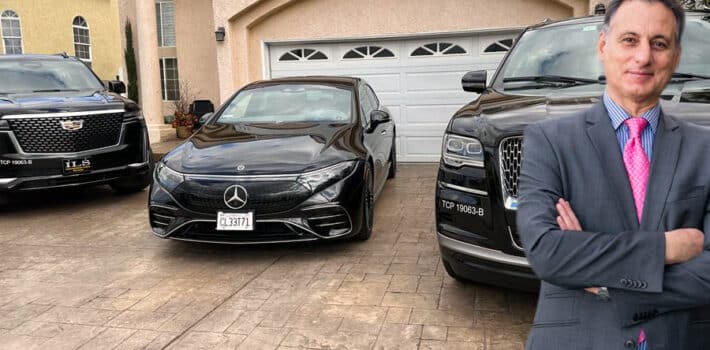 👔🚘 Need a reliable and professional chauffeur for your next corporate meeting or airport transfer? Look no further than ILS! Our team is always on time and ready to get you where you need to be in style and comfort. 🌟 With years of experience serving business travelers, our chauffeur service is second to none.
Trust us to handle your transportation needs with the utmost care and attention to detail. Contact us today to book your ride at +1 (310) 390-2224 or .
Let ILS take the stress out of your next corporate meeting or airport transfer. ✈️🏢
#chauffeurservice #corporatetransportation #businessclass #luxurytravel #airporttransfer #executivetravel #ILSLimos #professionalchauffeur #ontimeeverytime
Follow us on instagram: https://www.instagram.com/ils_limos/
Are you planning a vacation to Los Angeles for business? Here are some pointers to make things go more smoothly. Traveling to the airport, catching a flight, and dealing with delays and cancellations might be taxing, but you must remain focused on your business the entire trip.
There isn't time for a breather when traveling for business, whether it's to meet with high-profile clients or to attend a roadshow or conference, especially if your employer has crammed your itinerary.
While business travel can be stressful, it can also be a fun and productive way to spend time away from the office. ILS works directly with various businesses to provide corporate transportation services, and we've learned a thing or two about making business travel more enjoyable. Continue reading for helpful hints on how to make international business travel less stressful. 
USE SAME HOTEL
Whether you're the one traveling for business or you've been entrusted with making travel plans for coworkers, staying at the same hotel for each trip, if possible, is one of the simplest methods to make international business travel smoother.
There are a lot of hotel chains that have hotels in nations other than the United States, so you have a lot of alternatives when it comes to picking which one to book. Whether you stay at a Wyndham, Marriott, Hilton, or Best Western hotel for business trips, you can earn reward points that can be used to get free rooms, food, or savings. Check with your favorite hotel company to see if they have any corporate accounts or specials. 
CHECK ALL TRAVEL DOCUMENTATION
Everyone is aware that a passport is required when traveling outside of the country. However, did you know that traveling to China requires a visa and that traveling to Russia necessitates proof of vaccinations? Make sure you're prepared months before your trip, regardless of where you're going. Make a list of everything you'll need and double-check that nothing is about to expire before your vacation.
TRY TO USE LOCAL CURRENCY
When you travel, you'll most likely have access to a company credit card or be reimbursed for your expenses. Regardless of how you and your organization decide to pay for your trip, using local money is usually a good idea. When used overseas, credit cards might impose fees, which can mount up quickly, especially on a week-long business trip. Use the local currency or a credit card that does not charge foreign transaction fees to avoid fees.
TRY SIGHTSEEING
We all know that being active leads to a healthy lifestyle, but it can be difficult to squeeze in exercise when you're traveling for work and have meetings after meetings to attend. Make time to sight-see the next time you travel for business, even if it's only for an hour in between meetings. Getting out and about and taking in fresh scenery and culture while also getting some exercise will make you feel better in general.
Visit our official website to book our corporate transportation services. We're excited to provide you with all of your corporate transportation requirements!
Making a positive statement using limo services for all corporate commuting needs will never let your clients forget you. Since it helps you present yourself professionally and adds impression, booking this mode of vehicle will aid in getting you contracts and attracting larger number of clientele.
With myriad benefits available with reserving a limo ride, make sure you book this service to avail a good experience. Keep reading to know how you can find a professional corporate limo ride for yourself and your VIP clients:
Company size:
Before renting out a limo a your plush ride experience, do not forget to research about the company in detail. An exhaustive approach to this step will help you ascertain the size of the company by determining the number of vehicles they have and the quality of fleet with respect to car types and sizes.
Chauffeurs:
Whether you're booking a ride for yourself, your employees or the VIP clients, safety comes first and for this, you must always remember to check how the company's chauffeurs are. This does not only include their driving skills but also their licenses as well as trainings. Make sure the chauffeur that you will be getting along the car has also the necessary paper work. With this you may also want to have a look at their driving history in order to determine how good they are at their jobs.
Review testimonials and comments:
Each limo company today owns a good profile on social media that their clients can easily check and read through before reserving with them. And while these platforms help you gather additional information about their cars through the gallery section and the wide range of services the limo provider is capable of offering, taking a look at what past customers have left in terms of their experience with the company will bring you fruitful decision making capacities.
Do you want to join hands with a limo company that can offer you a world-class corporate limo reservation? You've come to the right place. Book with us!